star 1
star 2
star 3
star 4
star 5
(
1
)
Rating value is 5 of 5
Patizon Dpro 290 - TRUE ULTRALIGHT
- COLOUR: Green / Gold, SIZE: L (for heights 186 - 200 cm)
TEMPERATURES 3°C, -2°C, -18°C (ISO EN 23537) WEIGHT 559 g (S) | 605 g (M) | 650 g (L)
So you wanted a lighter sleeping bag, huh? Well, here it is! Our brand new DPRO 290 is a delightful combination of low weight, great insulation and low packing volume. Still, it keeps all the technical features! It won't weight you down on any of your summer mountain adventures. Since 2021 the Dpro 290 is equipped with straight zipper in the upper side, which gives the sleeping bag better insulation properties, better comfort of use and smaller packing volume. More
Manufacturer: Patizon Product code: PAT001-13
We use high-quality European duck down with IDFL and RDS certificates.
The down is hypoallergenic with 700+ cuin fill power.
We use extremely lightweight fabric: Pertex Quantum (100% recycled nylon) with DWR treatment. It provides an exceptional breathability yet very good tear and water resistance.
The DWR treatment has 80 % efficency after twenty laundry cycles.
Ergonomically shaped foot box providing the best comfort for your feet.
Streight semi-automatic YKK zipper with two sliders and unique way of operation. Ending at the height of ankles.
The zipper is 3mm thin instead of widely used 6mm. This means better insulation and weight savings.
Precisely shaped insulation baffle around shoulders/neck preventing the heat loss. Due to specific construction, there os no need for using buckles or velcroes.
The newly shaped hood closes easily with one-hand operated draw cord and static cord.
Compression bag with DWR compresses the sleeping bag 13 times the volume. It is delivered with every sleeping bag.
Breathable storage bag included.
Inner pocket-sized 20 x 12 cm for batteries, cell phones or other personal belongings.
Down-filled zipper baffle preventing heat loss through the zipper.
Inner short flap preventing the fabric from catching to the zipper.
One-hand draw card operation on the shoulder baffle and the hood.
Ergonomically shaped hood allows head movement.
Insulated baffle around the hood is filled with Climashield synthetic insulation. It works better with the moisture you breath out and it adds extra comfort around the drawcord.
Sewn points for hanging the sleeping bag when in storage or when drying.
Slightly wider mummy shape of the sleeping bag copies the shape of your body to prevent heat loss, but still allows you to reach your feet even when fully closed (to put dry socks on, for example).
"Z" construction of the boxes for the ideal distribution of the down.
The zipper on the left or right side
The down distribution ratio is 50:50 (bottom : top)
Patizon Dpro 290: technical details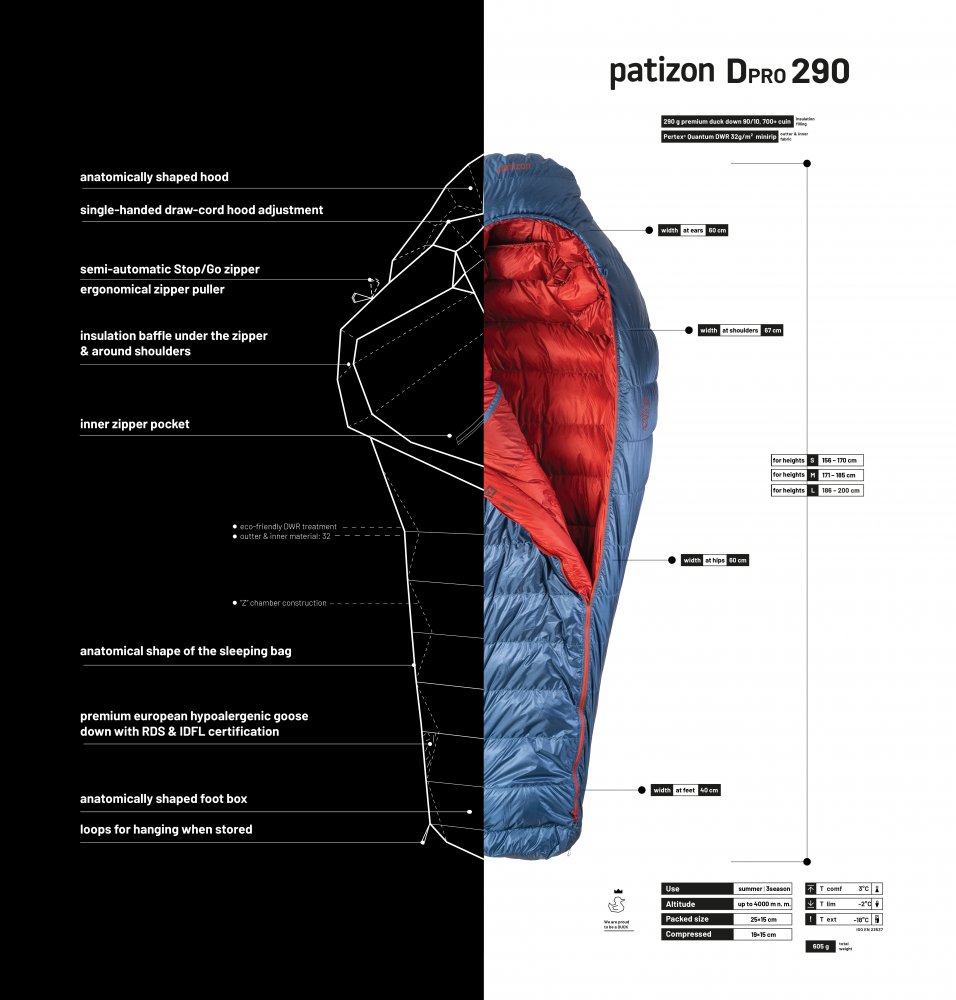 Anatomically shaped hood
The hood is a crucial pat of a sleeping bag. We believe that even a light sleeping bag needs well shaped hood that prevents heat loss at all costs, because your head is a part of body that looses heat very quickly. The hood adjustment is made with a draw cord and can be tightened by one hand.
Anatomically shaped sleeping bag. Especially the foot box.
The shape of Patizon sleeping bags follows the shape of a human body. This is the way to preent cold spots that need heating. Furthermore, we have designed the shape in a way that allows for some more movement inside - in case you want to stay insede the sleeping bag and change your wet socks for the dry ones. In Patizon it is possible. The footbox is made with several chambers and is precisely insulated. Your feet can get cold easily adn we don't want that to happen.
Insulation baffles right where you need them.
The main zipper is backed with down-filled insulation baffle to prevent any heat loss through the zipper. Thanks to the construction with straight zipper the baffle works extremely well. Around the shouklders, there is another insulation baffle that can be tightened with a draw cord and si constructed to work perfectly without any velcros. 
The semi-automatic zipper. Smarter than you think.
Patizon sleeping bags utilise premium japanese YKK zippers. Moreover, we use semi-automatic pullers, that have two modes. When in mode STOP (picture 1), the puller stays in place no mater what and you can not open it by accident. In Go mode (picture 2) you can easily open the zipper just by tearing the sides apart from each other. It is as easy as it sounds. This functionality makes any velcroes or other buckles to lock the zipper obsolete. 
And of course, for pleasant closing of your sleeping bag we have included an ergonomical puller.
Smart details. And something more.
Inner zipper pocket to keep your valuables or electronic devices warm is included. No surprise here. There is a bunch of textile loops on the bottom of Pation sleeping bags to hang it when storing or drying. But there is more. With every sleeping bag, you get a storage bag that keeps your puffy friend packed but still lofty, to give it the best longevity as possible. And of course there is a compress sack included and it can make the sleeping bag ultra-small to save space in you backpack.
| | |
| --- | --- |
| | This product has a Refund Value of 20 EUR. What does that mean? If your product reaches the end of its life span and you wish to use it no more, we will buy it back from you. You will be granted with a certificate with value of 20 EUR that you can use against a new purchase on Patizon.com. We will make sure that your old product will be treated ecologically, recycled or reused. |
| | |
| --- | --- |
| BEST FOR | spring | summer | autumn |
| TEMPERATURES | 3°C, -2°C, -18°C (ISO EN 23537) |
| WEIGHT | 559 g (S) | 605 g (M) | 650 g (L) |
| SIZE | S (for heights 156 - 170 cm), M (for heights 171 - 185 cm), L (for heights 186 - 200 cm) |
| INSULATION FILLING | European duck down 90/10, 700+ cu-in/oz |
| FILLING WEIGHT | 265 g (S) | 290 g (M) | 310 g (L) |
| INTERNAL DIMENSIONS | Width at the ears: 60 cm (S/M) | 62 cm (L), Width at shoulders: 67 cm (S/M) | 72 cm (L), Width at hips: 60 cm (S/M) | 64 cm (L), Width of the bottom: 32 cm (S/M) | 33 cm (L) |
| SIZE BEFORE / AFTER COMPRESSION | 25×15 cm / 19×15 cm |
| VOLUME OF THE COMPRESSION SACK | 4,2 l |